Skip hire in Preston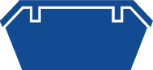 We operate a fast, affordable domestic and commercial skip hire service for local Preston residents.
Please note: we only deliver skips to residents within the Preston City Council area.
To find out if our service includes your area please visit GOV.UK - Find your local authority.

We no longer take cash payment for skips - all payments must be made by card before delivery.
Benefits of hiring a skip with us
Quick, reliable, affordable service
Flexible arrangements to work around you
Public highway permits arranged and included at no extra cost
On time collections
How to hire a skip
To hire a skip call us during current office hours (Monday - Friday - 7:30am - 4pm) on our skip line 01772 906278.
Information you need
Name/contact details
Delivery address
Skip type/size
Delivery date
Duration of hire
Delivery location (if this is on a public highway, we will provide the permit at no extra cost)
How to pay
Skips can be paid over the phone (using credit or debit card) before delivery.
Skip hire prices
The prices below are for standard and plasterboard only skip hire:
Standard skips
Please note: Prices are inclusive of VAT. Yards are an approximation.
General waste skip (3 cubic yards) - £199
General waste skip (8 cubic yards) - £271
General waste enclosed skip (8 cubic yards) - £283
General waste LCC enclosed skip (3 cubic yards) - £236
General waste drop door skip (8 cubic yards) - £271
Plasterboard only skips
Midi skip (3 cubic yards) - £259
Builders skip (8 cubic yards) - £318
How long can you hire the skip for?
We offer one day to multiple day skip hire options.
Multiple day hire
You can hire a skip for 7-10 days. Longer hire periods may be available on request.
If you wish to extend your hire period you must contact us within 24 hours of your collection date. Failure to do this may incur a £50 surcharge.
One day hire
You can hire a skip for 'same day pick up'. We will deliver as early as possible so you have maximum time with the skip.
What you can't skip
You should not hire a skip for the following items:
Plasterboard (plasterboard can be placed in our 'plasterboard only skips')
Asbestos
Aerosols
Solvents
Gas canisters
Pesticides
Anti - freeze
Corrosive liquids
Biological waste
Medical waste
Laboratory waste
Batteries
Chemical Containers
Waste oils
Explosives
Motor oil
Vehicle batteries
Fire extinguishers
Computer Monitors
Fluorescent Tubes/light bulbs
Fridges
Fridge-Freezers
Paint Cans
TV and computer monitors
Tyres
Please note: this list is not exhaustive and if you are unsure whether an item will be accepted please ask at time of booking. We reserve the right to refuse to remove skips containing unauthorised items.
Where can I dispose of these items?
The majority of the items listed can be disposed of at your local household waste and recycling centre.
Alternatively, for items such as computer monitors, fridges, fridge-freezers, TVs or tyres you can apply for bulky waste collection.
Please note: not all recycling centres dispose of asbestos, so please check before you go by visiting Lancashire County Council - disposal of hazardous waste and asbestos.
Give away your unwanted items
As an alternative to putting certain unwanted items in the skip, why not consider giving them away...
Freegle is an online service which allows you to get and give unwanted items for free from residents within your local community.
For more information on giving away your items and how to join the community visit I Love Freegle - Preston Freegle Group.
To find out what residents are giving away in Preston currently visit I Love Freegle - Preston items.
Alternatively, you can donate your unwanted items to local charities, a number of which will collect free of charge.