What can I put in my recycling bins and boxes?

You should use your recycling containers for the following items:
Red lidded container (paper and cardboard)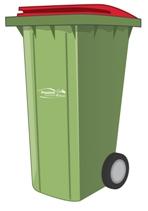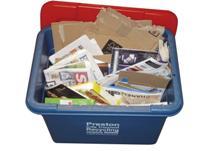 We do collect
Paper
Catalogues and Directories
Wrapping Paper (Non Foil)
Newspaper
Magazines
Junk Mail / envelopes
Cardboard Food Packaging
Ready meal sleeves
Cardboard Boxes (must be cut down to fit inside container, even if it is left next to the container as extra recycling)
Toilet Roll and Kitchen Roll Tubes
Greetings Cards
Cereal Boxes
Cigarette cartons (remove foil inner)
Cardboard medicine boxes (remove the plastic/foil pill packets are not recyclable)
We don't collect
Drink / soup cartons (Tetra Paks)
Disposable coffee cups
Plastic wrapping / cellophane
Wallpaper
Polystyrene
Plastic bags / carrier bags (loose items only)
Textiles / shoes
Paper towels
Padded envelopes
Train tickets (paper with magnetic strips)
Books
Yellow lidded container (plastic bottles, pots, trays and tubs, glass bottles and jars and cans)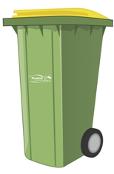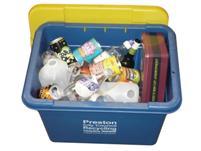 We do collect
Pop bottles
Detergent bottles
Plastic bottles (e.g. detergent, bleach, shampoo, milk, pop, yoghurt, medicine)
Car oil and antifreeze bottles (must be EMPTY with lids TIGHTLY on)
Plastic lids (either on or off the bottles)
Plastic tubs (e.g. margarine, ice cream, Christmas chocolates) no film lids
Plastic pots (e.g. yoghurt, soup) no film lids
Plastic trays /punnets (e.g. ready meals, meat trays, fruit /veg punnets) no film lids or polystyrene trays
Plastic items with numbers ♻ 1(PET), ♻ 2 (HDPE) or ♻ 5 (PP)*
Makeup containers
Plant pots
Hand gel bottles (must be rinsed as contents are flammable)
Car oil and antifreeze bottles (must be empty with lids tightly on)
Glass bottles
Glass jars
Food tins
Drinks cans
Biscuit and sweet tins (metal and plastic)
Empty aerosol cans
Co2 cartridges (laughing gas canisters)
Clean foil
Foil pie cases
Foil takeaway containers
Pet food tins
Metal bottle caps/lids (off the jars)
Aluminium tubes e.g tomato puree tubes (remove cap)
* You should not place hard plastics labelled with these symbols, such as plastic boxes or garden furniture, in your kerbside recycling. These can instead be taken to the Household Waste and Recycling Centres, where there is a skip solely for hard plastics. Anything which is mixed with another material, such as metal, fabric or insulating foam is unsuitable to go in the container.
Food containers must be clean.

Remove any film lids and absorbent pads in the bottom of trays, and put these in your general rubbish.

Please do not separate items using carrier bags as this may be classed as contamination.
Please note: recycling boxes may only be used for households with no storage facilities for bins and need prior approval from the Waste Management Department.
We don't collect
Plastic bags / carrier bags (loose items only)
Film lids on from plastic pots and trays
Plastic wrappers / cellophane
Absorbent pads (from the bottom of plastic trays)
Polystyrene
Drinking glasses, plates or other ceramic items
Pots and pans or other scrap metal
Electrical items
Toys
Batteries (this can cause fires when compacted in the wagons)
Lighter fluid containers (or other flammable liquid containers)
Nappies
Paper / cardboard
Textiles / shoes*
Disposable coffee cups
* We no longer collect textiles or shoes on the kerbside. Textiles can be brought for recycling to:
A local charity shop
local textile shops who purchase textiles by weight
Garden waste bin (brown bin)
To find out what you can and can't put in your garden waste bin see what can I put in my garden waste bin?
Reduce, reuse, recycle this Christmas
For top tips on reducing, reusing and recycling your Christmas items this Christmas see reduce, reuse, recycle this Christmas.