Heritage Skills experience day in Preston celebrates success
8 September 2023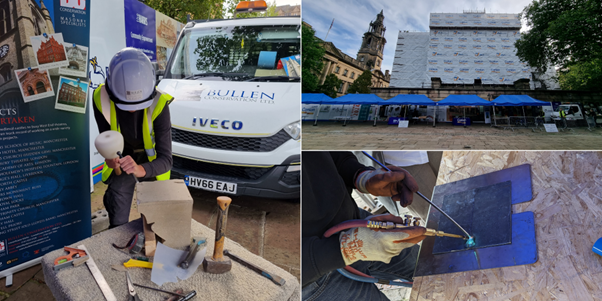 The Heritage Skills Experience Day at Preston's Flag Market, held on August 31, 2023, exceeded all expectations as it provided a unique platform for the public to immerse themselves in the world of traditional craftsmanship.
Hosted by The Harris in partnership with Conlon Construction - the local contractor leading the museum's £16m refurbishment project - this event showcased the beauty and value of heritage skills.
The Heritage Skills Experience Day featured two prominent organisations dedicated to preserving and promoting heritage skills: Bullen Conservation and Preston Vocational Centre (PVC).
Bullen Conservation skills experience
Renowned for their mastery of stonework, Bullen Conservation presented an opportunity for attendees to witness actual stone repairs in progress. Visitors were not only able to observe skilled professionals at work but also tried their hand at working on 'dummy' pieces under expert guidance.
Preston Vocational Centre (PVC) skills experience
PVC took attendees on a journey into the meticulous process of window restoration. Visitors had the chance to dismantle and re-fix a sash window, gaining a hands-on understanding of the craftsmanship involved. The centre also offered valuable advice sessions for those interested in pursuing a career in heritage skills, particularly in construction.
The Heritage Skills Experience Day drew a diverse crowd of enthusiastic individuals, ranging from aspiring craftsmen to heritage lovers. The event was a testament to the appeal of traditional craftsmanship and the importance of preserving these skills for future generations.
Councillor Peter Kelly, Cabinet member for culture and leisure services at Preston City Council said:
"The Heritage Skills Experience Day was a resounding success, showcasing the rich heritage and craftsmanship. Admission to the event was free, welcoming all members of the public to witness heritage skills in action and gain firsthand experience under the guidance of skilled practitioners."
More information
About the Harris
Opened in 1893, the Grade I listed building is owned and managed by Preston City Council. Based in Preston, Lancashire, the Harris is one of the leading museums, galleries and libraries in the region. Host to art collections of national significance, exciting activities and events for all ages and an award-winning contemporary art programme, the Harris welcomed over 380,000 visitors in 2018/2019.
We are currently delivering Harris Your Place, a major capital project made possible with support from the National Lottery Heritage Fund; Towns Fund; Preston City Council; Lancashire County Council; the Preston, South Ribble and Lancashire City Deal; DCMS; Arts Council England, public donations and a wide range of Trusts and Foundations.
We will re-open our magnificent Grade I Listed building in 2024 and are already working with Community Partners to deliver a programme of events and activities throughout closure and from day one of re-opening.
Towns Fund - Town Deals
On 27 July 2019, the Prime Minister announced that the Towns Fund would support an initial 101 places across England to develop Town Deal proposals, to drive economic regeneration and deliver long-term economic and productivity growth.
Preston's City Investment Plan is a 15-year vision for Preston, setting out Preston's long-term objectives and strategy to transform the City, targeting resources and aligning public and private sector investments to respond to needs and capitalise on opportunities for positive change.
Preston City Council actively applies and prioritises the principles of Community Wealth Building wherever applicable and appropriate. Community Wealth Building is an approach which aims to ensure the economic system builds wealth and prosperity for everyone.
Projects included in Preston's £200 million Harris Quarter Towns Fund Investment Programme are:
Animate - £45m multi-use entertainment and leisure complex anchored by a state-of-the-art cinema and bowling venue next to Preston Markets
Educate Preston: The creation of a new Careers and Employment, Information, Advice and Guidance Hub in the Harris Quarter.
Renewal of Harris Quarter Assets: Investment to support the redevelopment of publicly-owned buildings in the Harris Quarter to support new cultural and community uses, including Amounderness House.
Illuminate and Integrate: A project to deliver improved pedestrian and cycleway infrastructure, street lighting and other public realm improvements within the Harris Quarter.
Preston Youth Zone:The development of Preston Youth Zone as a state-of-the-art facility for young people in Preston aged eight to 19.
#HarrisYourPlace:The refurbishment of the Grade I listed Harris Museum, Art Gallery and Library, enhancing and protecting the building for future generations.
Preston Pop Ups: £1m pop-up programme of events bringing together new temporary event space, artworks and improvements to public realm infrastructure, aimed at boosting visitor activity in the Harris Quarter.
For more information on the Harris Quarter Towns Fund Investment Programme projects visit Invest Preston - Harris Quarter Towns Fund Investment Programme (2021 - 2026).