Lancashire County Council launches Lancashire Warm Spaces Charter and grant scheme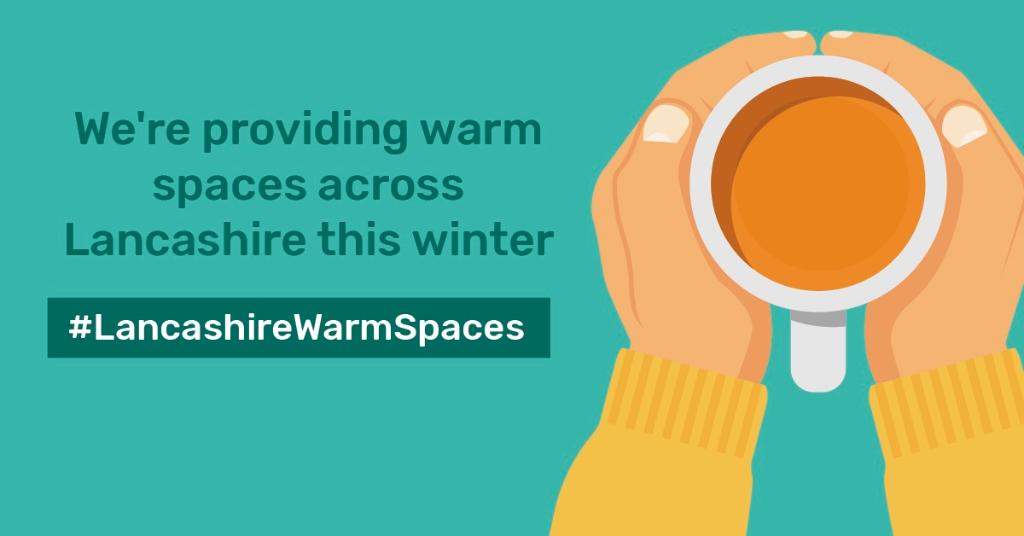 18 November 2022
A new grant scheme aimed at helping organisations in the community to run warm spaces this winter has been launched by Lancashire County Council.
All libraries in Lancashire have been designated as warm and welcome spaces where people can find a warm drink, a space to sit, free computers and Wi-Fi, charging points for digital equipment, events and activities and help from staff to find further information about what support is available.
To complement this offer, the county council is developing a new small grants scheme that will allow organisations in the Voluntary, Community, Faith and Social Enterprise (VCFSE) sector, as well as for parish and town councils, to create or improve their warm space offer in their local community.
Grants of up to £500 will be available through a simple application process.
Those organisations wishing to offer a warm space will be asked to sign up to the Lancashire Warm Spaces Charter - a set of seven core principles that every warm space should adhere to.
Organisations will also be asked to register their facilities with us so we can let our residents know how to access them.
Cllr Michael Green, cabinet member for health and wellbeing, said:
"The Lancashire Warm Spaces Charter will help residents know what to expect when they enter a warm space in Lancashire.

"When an organisation signs up to the Charter, they are giving a guarantee that those who use it will be entering a safe, accessible and warm space, and treated with respect and dignity, without judgement and in confidence. The Charter also helps organisations wishing to provide warm spaces to know exactly what is expected of them.

"Initially we are making £72,000 available for organisations to bid to, and this will be kept under review. We are also investing in training for the organisations wishing to be part of this scheme. This will help them to feel more confident and competent with any issues or concerns they may have and will ensure they are fully aligned to the principles of the Charter."
Dr Sakthi Karunanithi, Director of Public Health, Lancashire County Council, said:
"We know that living in a cold home can have numerous negative impacts on an individual's health and wellbeing.

"To prepare for the winter, we are letting the public know that they can come to any of our libraries to feel warm, welcome and speak to our staff who can signpost to further support.

"The Lancashire Warm Spaces Charter and the associated grant scheme will expand this offer, creating a collection of warm spaces that all share the same core principles, right across the county."
For more information about the Lancashire Warm Spaces Grant Scheme visit Lancashire County Council's Cost of Living page.
The Charter is intended to help local people know what to expect when they enter a Lancashire Warm Space and what those providing spaces expect from them in return.
Lancashire Warm Spaces Charter
A warm welcome
Every time you come to a Warm Space you will be given a warm welcome from the friendly staff and volunteers.
No judgement
Every Warm Space is a non-judgemental space. Whatever the reason you have for needing to come in, you'll be treated fairly and never judged.
Respect and dignity
Everyone has a right to be warm. Staff, volunteers and those visiting Warm Spaces will be expected to treat everyone with respect and dignity.
Everyone must respect this, or they will be asked to leave.
Accessibility
Warm Spaces will aim to be accessible to all. Where physical features reduce accessibility Warm Spaces will aim to make you aware of this through their publicity and if possible signpost to alternative venues locally.
Safety
Warm Spaces will be responsible for having safeguarding and food hygiene policies which will always be followed. They will have a commitment to health and safety and have appropriate risk assessments in place.
Confidentiality
If you want to share the reasons you need a Warm Space, someone will listen. Staff and volunteers won't tell anyone else unless you give them permission, or they are required to because of their safeguarding policies.
Information
If you need to access information, advice or support the staff within the Warm Space will be able to signpost you to organisations that can help, if you so wish.