Look up! Preston High Street Celebrates the Jubilee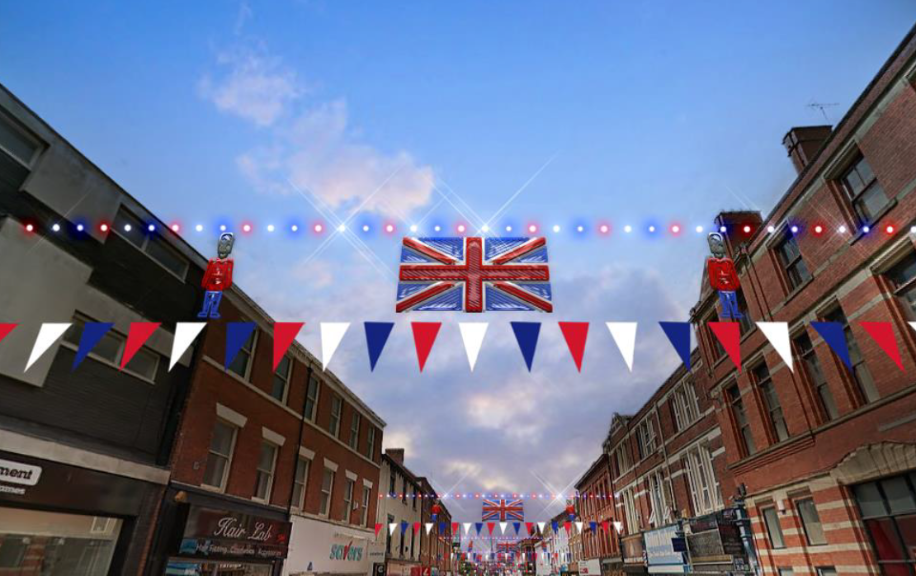 22 March 2022
From 25 March until the end of June, Preston's city centre will be hosting a Jubilee themed installation above Fishergate, Church Street and part of Friargate, using the Christmas lights infrastructure.
The bold block red, blue and white festoon lighting with flashes of gold, highlighted with iconic symbols of the British monarchy such as crowns, Union Jacks, swans, traditional Queen's Guards and corgis will bring a sense of celebration to the high street in honour of Her Majesty's Platinum Jubilee.
Mayor of Preston, Councillor Javed Iqbal, said:

"As the Golden Jubilee City, it is only fitting that Preston marks Her Majesty's Platinum Jubilee in style. This installation will add a sense of occasion to our city centre and be something bright and fun for visitors of all ages to enjoy.

Hopefully it will also inspire residents and communities to find a way to celebrate themselves, whether through attending events or by organising their own Platinum Jubilee street parties. Following such a difficult couple of years with the pandemic, we can all benefit from some light-hearted fun."
Commissioned as part of the city's Welcome Back Fund action plan, the Jubilee Installation has been funded by the European Regional Development Fund (ERDF) through the Department for Communities and Local Government and sets the tone for the upcoming Platinum Jubilee celebrations.
Preston will also be hosting other Jubilee related activities, to celebrate this commemorative year, including a beacon lighting at The Harris, Jubilee Preston Mela and a Big Lunch on Avenham Park. Further details on these events will be announced soon.
Further Information
The Jubilee Aerial Installation has been funded by the Welcome Back Fund, through ERDF and HM Government.
The installation is made from BioPrint, a recyclable and biodegradable lighting structure, provided by Blachere Illumination. They were procured through an open advertisement on the Chest, the Council's procurement platform.
To apply to host a street party on the Jubilee weekend, find all the details and application form on our website.
The Council has been allocated up to £215,626 for the Reopening High Streets Safely and Welcome Back projects, funded from the England European Regional Development Fund (ERDF) as part of the European Structural and Investment Funds Growth Programme 2014 - 2020. The Department for Communities and Local Government is the Managing Authority for ERDF. Established by the European Union ERDF funds help local areas stimulate their economic development by investing in projects which will support innovation, businesses, create jobs and local community regenerations.