Partnership approach for Rough Sleeping Initiative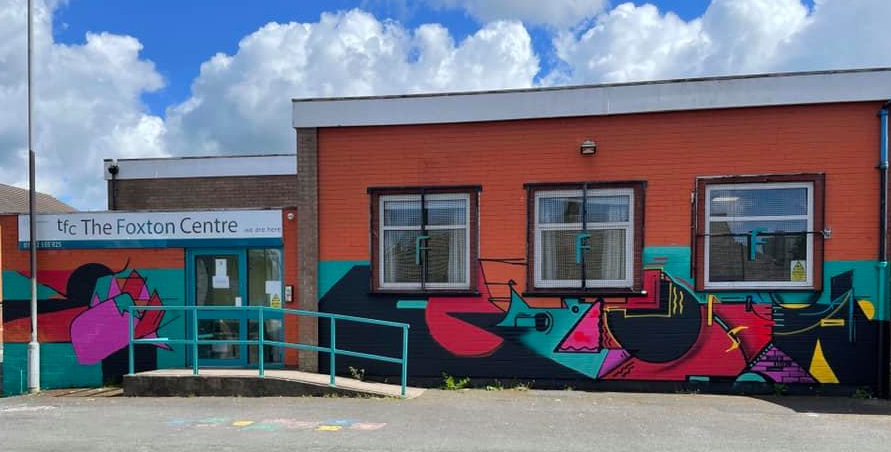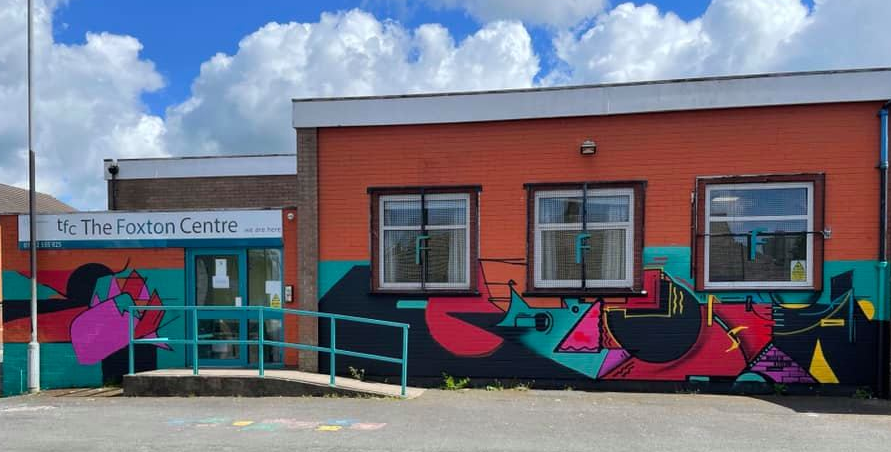 9 December 2021
The weather is taking a turn for the worse and therefore people in our local community are quite rightly thinking about those who are homeless and don't have a roof over their heads.
In Preston we are fortunate that Preston City Council, Community Gateway Association, Calico, Key, Progress Housing, Onward and the Foxton Centre are all working in partnership under the banner of the Rough Sleepers Initiative (RSI) to deliver services to rough sleepers in the city.
Jeff Marsh, CEO from the Foxton Centre, said:
"The strong partnership we have built over the past four years has meant that services available to rough sleepers in the city continue to improve, that's not to say everything is perfect but we are able to offer a comprehensive service for this vulnerable group.

We recently completed the rough sleepers count for the city for the Department of Levelling Up Communities and Housing in line with government advice. On the night of the count we had six teams out in the city looking for rough sleeper. Also present was the independent verifier to make sure the account was administered properly."
The numbers in the chart below show the progress over the past few years with a 54% reduction on 2020 and a 73% reduction from the peak in 2018.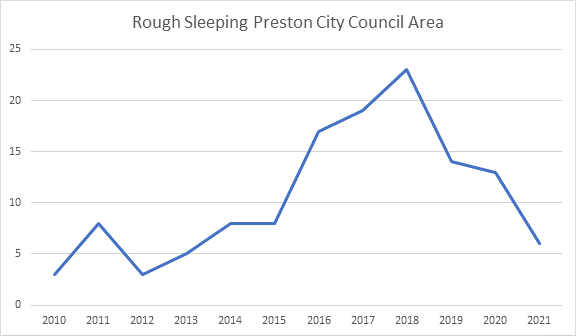 Foxton CEO Jeff Marsh said one person on the streets is too many but these numbers demonstrate the success of the partnership work in Preston.
Councillor Nweeda Khan, Cabinet member for communities and social justice at Preston City Council, said:
"Partnership working and a multi-agency approach in helping those people presenting as homeless is the best course of action, this is proven by the reduction in numbers from the peak in 2018 to this year. This decrease is a testament to the hard work, dedication and commitment of those on the front line and behind the scenes helping people who often have very varied and complex needs.

It's vital that this help and support is available all year round, not just through the winter period, so it's clear that the Government funding received for the Rough Sleepers Initiative is being put to good use here in Preston.

We hope to continue this great work with our partners, alongside community and faith groups. If you are concerned about a vulnerable person who appears to be sleeping rough, please contact the Outreach team at the Foxton Centre who can make sure they are safe and offered the appropriate help, support and somewhere to stay."
More information
The Foxton Centre runs a street outreach team to find people who are sleeping rough they actively go out looking for people and will respond to members of the public , local businesses and local agencies who are concerned about an individual and will contact that person.
There is emergency accommodation for rough sleepers which is open 365 days a year and has remained open throughout the Covid crisis
Severe weather accommodation is provided in addition to the emergency accommodation, opening from 22 November 2021 and is available whenever the weather is bad.
Move-on accommodation with support is available to re-settle people more permanently in the local community through Foxton's Housing First, RSI resettlement in properties supplied by Community Gateway Association, Onward, Progress and others.
In addition Community Gateway Association recently opened "The Spires" a 26 bed unit in the city to provide accommodation for this group of people.
The Foxton Centre also has funds available through the RSI to reconnect people to a different area if that is a good solution for them.
We are fortunate that Preston this year was allocated funding for drug and alcohol services specifically for rough sleepers and this service is delivered by Inspire and Change Grow Live.
There are also many smaller community voluntary and faith group who do a fantastic job providing services for rough sleepers in the city including soup kitchen type provision.
If anyone from our community is worried about an individual they can contact the Foxton Centre Outreach Team and we will go out to try and contact the person sleeping rough and offer them somewhere to stay.
Our services cover the Preston City Council area however if people come across an individual outside the boundary there is a national service called Streetlink, they will pass on contacts to an appropriate local agency.