Preston 'Pop Up' mural pays tribute to Guild Wheel and its creator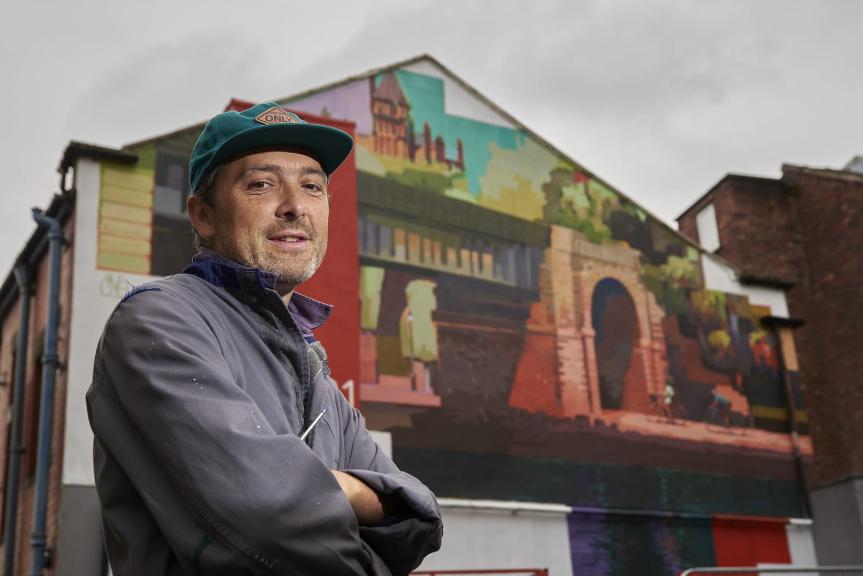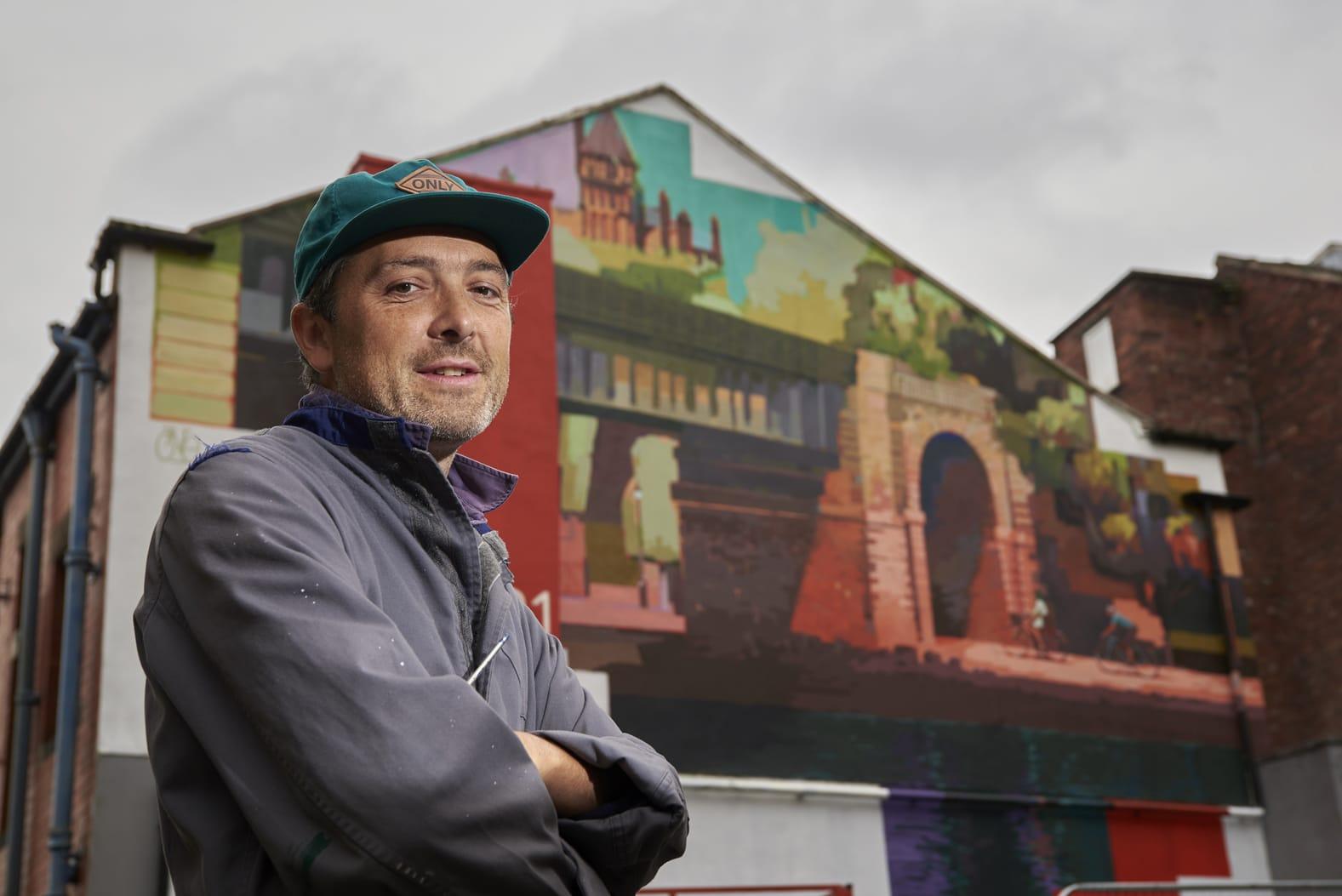 22 October 2021
Towns Fund News
A piece of street art which pays homage to the Guild Wheel cycle route and its creator has appeared in Preston, and the Towns Fund Board is looking for more buildings in Preston to be host to future murals.
Adorning the rear wall of Snape's Printers in Boltons Court, which links Avenham Lane with Church Street, the mural painted by local artist Gavin Renshaw, features a cyclist riding through Avenham and Miller Parks with the East Lancashire railway bridge and historic Park Hotel in the background.
Gavin was inspired to paint the mural as a tribute to former Preston councillor Peter Ward MBE. A passionate cyclist, the 21-mile circular Guild Wheel was Peter's idea and he helped see the ambitious project through to completion in time for the Guild in 2012.
The mural is entitled 0/21 as the location depicted marks the official start and finish line of the Guild Wheel. Peter passed away in 2017 and a memorial garden in his name was also unveiled on the route in June this year.
Funded as part of Preston's £20.9m Town Deal, the street murals are the latest Preston Pop Up project aimed at increasing footfall in the city centre following the pandemic, as well as supporting local arts and culture.
Three further murals are planned in the city and Paint Preston, which is managing the project, is looking for other building owners to come forward to offer up wall space to support the artists.
Robert Binns, a member of Preston Partnership and the Preston Towns Fund Board, said:
"We've seen how street art in other cities around the world can create a strong sense of place and encourage visitors to spend more time exploring a city. That's what we're trying to achieve with this latest Pop Up project which will create another cultural focal point and support local artists."
Councillor Matthew Brown, Leader of Preston City Council said:
"This brilliant new mural by local artist Gavin, perfectly depicts an iconic Preston scene.

It allows us to pay tribute to former Councillor Peter Ward MBE who gave so much to Preston by helping to create the iconic Guild Wheel, while welcoming more culture to our city.

I encourage anyone who owns a building in Preston to come forward for this fantastic opportunity to create more great murals which will enrich the cultural journey through our city, welcome more visitors and celebrate local talent."
Ben Rutherford, one of the project organisers for Paint Preston, said:
"The other planned murals are all inspired in some way by Preston's heritage, culture, and environment. They will be appearing at other locations in the city and one thing we need now is prominent wall space for the murals, so we're urging any other building owners who would like to come forward and offer up an external wall to contact us."
The pop ups also include the recently unveiled Wallace and Gromit sculpture and MET event space.
The projects are being funded from a £1 million pot of initial funding Preston received from the government's national Towns Fund.
If you have a building that you would consider for one of the planned street art murals contact paintpreston2021@gmail.com.
Further Information
Harris Quarter Towns Fund Investment Programme
The Harris Quarter Towns Fund Investment Programme is a bold and transformational development programme in Preston's Harris Quarter that will be delivered between 2021 and 2026.
It has been kickstarted by a £20.9 million Town Deal which Preston secured in March 2021 as part of the government's £3.6 billion Towns Fund, established to help level up towns and cities around the country.
The Harris Quarter Towns Fund Investment Programme is focussed on a number of regeneration projects across culture, leisure, residential, infrastructure, community and education, and is part of the Preston City Investment Plan (CIP).
Harris Quarter Towns Fund Investment Programme projects:
Preston Pop Ups
Bringing together new temporary event space, artworks and improvements to public realm infrastructure, aimed at boosting visitor activity in the Harris Quarter.
CEIAG Hub
The creation of a new Careers and Employment, Information, Advice and Guidance Hub in the Harris Quarter.
Animate Cinema and Leisure Scheme
The delivery of a new cinema and bowling attraction with food and drink venues, a car park and public square next to Preston Markets.
Renewal of Harris Quarter Assets
Investment to support the redevelopment of publicly-owned buildings in the Harris Quarter to support new cultural and community uses.
Illuminate and Integrate
A project to deliver improved pedestrian and cycleway infrastructure, street lighting and other public realm improvements within the Harris Quarter.
Preston Youth Zone
The development of Preston Youth Zone as a state-of-the-art facility for young people in Preston aged eight to 19.
#HarrisYourPlace
The refurbishment of the Grade I listed Harris Museum, Art Gallery and Library, enhancing and protecting the building for generations to come.
The Preston Towns Fund bid was led by the Preston Towns Fund Board, a sub-committee of the Preston Partnership.
The Harris Quarter is the city's main civic and cultural quarter and includes the buildings, public spaces and streets surrounding The Harris Museum, Preston Markets, The Guild Hall and the bus station.
Towns Fund - Towns Deals
Towns Fund is a £3.6 billion fund established by the government and managed by the Ministry of Housing, Communities and Local Government (MHCLG) to level up towns and cities around the country.
In 2019, the Prime Minister announced that the Towns Fund would support an initial 101 places across England to develop Town Deal proposals, to drive economic regeneration and deliver long-term economic and productivity growth.
A Town Deal is an agreement in principle between government, the Lead Council and the Town Deal Board. It will set out a vision and strategy for the town, and what each party agrees to do to achieve this vision.
Each of the 101 towns selected to work towards a Town Deal also received accelerated funding in 2020 for investment in capital projects that would have an immediate impact and help places "build back better" in the wake of Covid-19.
The city was awarded a total of £20.9m from the Towns Fund in March 2021 to support Preston's Harris Quarter Towns Fund Investment Programme which will breathe new life into some of the area's heritage assets, key buildings and open spaces to create a diverse culture, leisure and employment offering.