The Harris library opens in the Guild Hall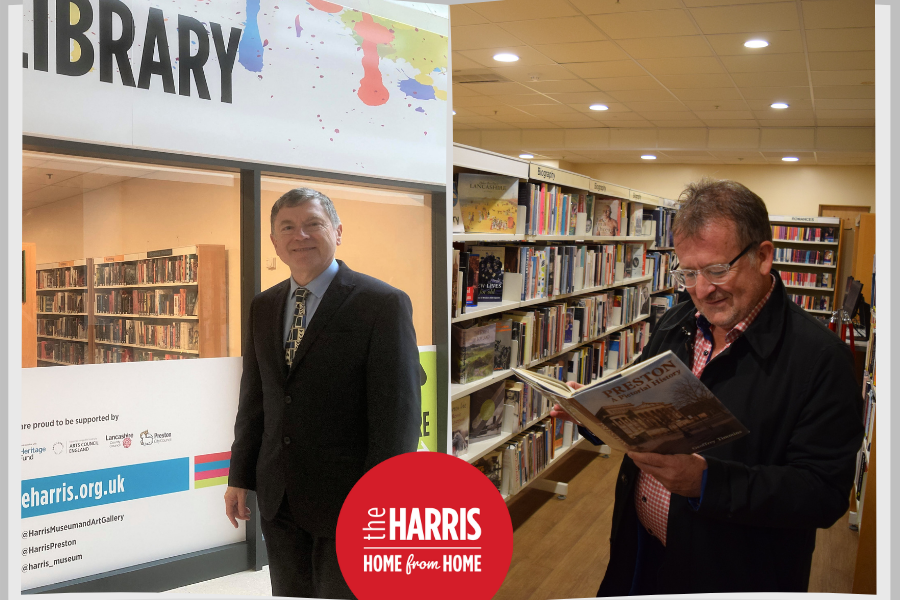 20 October 2021
The Harris library and IT services has now opened in its new temporary 'home from home' in the Guild Hall.
The library has ''upped sticks' and moved across the road from the Grade I Harris building for work on the Harris Your Place project to begin. From Monday 18 October you can return books, find your favourite reads, book computer sessions and enjoy a programme of workshops and activities until The Harris building reopens following major refurbishment.
County Councillor Peter Buckley, Cabinet member for community and cultural services at Lancashire County Council, said:
"This is a temporary move for the library whilst work is being done as part of the Harris Your Place project. Staff have all been working incredibly hard behind the scenes to ensure the library opens to the public in its new 'home from home' at the Guild hall.

They have cleared shelves, moved hundreds of books and set up public computers ready for use.

I would like to thank everyone who helped with the enormous task of moving an entire library to a new location and also to thank library users for their patience during the move."
Councillor Peter Kelly, Cabinet member for culture and arts at Preston City Council, added:
"We are delighted that the library is now open for everyone to visit.

Look out for half term activities coming soon including Harry Potter and Halloween themed workshops taking place in the Guild Hall foyer.

For the duration of the Harris Your Place project the museum and art galleries are closed but we have exciting plans for Harris 'pop ups' working with community partners, and will continue to loan works out to regional and UK museums and galleries and acquire new work for our collections.

We are also delighted to announce a recent successful application to the Frieze Collections Fund to purchase new works to form part of the opening displays at the museum when it re-opens in 2024"
The Harris will remain very busy behind the scenes with activities like the Frieze Collections Fund acquisition, collection loans and the Harris in the City 'pop ups'.
The Collections Fund at Frieze was awarded to the Harris Museum and Art Gallery after a competitive application process open to the Contemporary Art Society's 70 Museum Members across the UK.
The Harris collections are rich in historic and idealised representations of family life and curators were keen to identify artists who present a more complex range of insights into family life today.
The choice of works is in response to themes raised by local people at our Harris Summer Fun Days.
Harris in the City
Preston's African Caribbean Stories at UCLan's PR1 Gallery is the first display of a number that will take place around Preston whilst the museum is closed for major refurbishment and re-display.
The exhibition has been curated and written by members of Preston's Caribbean community and presents stories and objects that give an insight into community life.
Many of the stories are celebratory and highlight the huge contribution that the community has made to the city for more than 60 years, including music, sport, food and Preston's vibrant Caribbean Carnival.
Harris collections currently on loan
Harris artworks currently on loan in the region including paintings from Preston born artist REGINALD ASPINWALL: A troubled landscape exhibition now on display at Lancaster City Museum.
The exhibition tells his fascinating life story and his links to the cities of Preston and Lancaster.
If you're heading to Tate Liverpool anytime soon, you'll see our Lucian Freud 'Still Life with Squid and Sea Urchin' on display. This work features in the 'Lucian Freud: Real Lives' exhibition. It's one of a handful of the artists' early still life compositions and a favourite with Harris visitors.
Look out for more Harris updates on social media and on the Harris website.
The library and IT services will be open Monday to Saturday from 9am to 5pm and will be available for all.
The Harris Library Home from Home in the Guild Hall arcade will join other businesses located in the Guild Hall including Carol May's Academy and The Dancers Wardrobe
Further Information
About the Harris
Based in Preston, Lancashire, the Harris is one of the leading museums, galleries and libraries in the region.
Home to art collections of national significance, exciting activities and events for all ages and an award-winning contemporary art programme, the Harris welcomed over 380,000 visitors in 2018/19.
The Harris temporarily closed in October 2020 for the Harris Your Place project, an ambitious £10.02m reimagining of the iconic Grade I listed building, reopening in 2024.
Harris Your Place
In March 2021 the Harris was granted £4.5m from The National Lottery Heritage Fund - the critical final piece of funding needed to deliver an ambitious £10.02m reimagining of the iconic Grade I listed building.
Harris Your Place, capital scheme has also been made possible thanks to a further £3.6m from:
Preston City Council
Lancashire County Council
The Preston
South Ribble and Lancashire City Deal
Arts Council England
The Friends of the Harris
Public donations.
Other key supporters include the University of Central Lancashire (UCLan), the Harris Trust and the Harris Charity, Harris Your Place will make the Harris the UK's first blended museum, art gallery and library.
It will make the building more accessible to welcome an additional 100,000 visitors per year with a community-led programme of exhibitions, activities and events.
Due to commence in autumn 2021, works will return the building to its original splendour and reveal some of the Harris' original architectural details, which have previously been hidden.
The Harris temporarily closed in October 2020 for the Harris Your Place project and will reopen in 2024.
The Harris Library has moved to a temporary 'home from home' in the Guild Hall, Preston. There will be 'pop-up' Harris events around the city whilst the Grade I Harris building is closed for refurbishment.
The Harris is proud to be an Arts Council National Portfolio Organisation.
The Harris is provided in partnership with Preston City Council (museum and art gallery) and Lancashire County Council (library).
The Harris consists of an art gallery, museum, library, shop and café. Arts Council England is the national development body for arts and culture across England, working to enrich people's lives.
We support a range of activities across the arts, museums and libraries - from theatre to visual art, reading to dance, music to literature, and crafts to collections.
Great art and culture inspires us, brings us together and teaches us about ourselves and the world around us.
In short, it makes life better. Between 2018 and 2022, we will invest £1.45 billion of public money from government and an estimated £860 million from the National Lottery to help create these experiences for as many people as possible across the country.
About the Collections Fund at Frieze
Founded in 2012, the Contemporary Art Society's Collections Fund is designed to support the acquisition of significant contemporary works for Contemporary Art Society Museum Members across the UK.
A key aim of the scheme is to draw together the knowledge, experience and expertise of private collectors with that of museum curators in a programme of research leading to an acquisition.
About Frieze
Frieze is the world's leading platform for modern and contemporary art for scholars, connoisseurs, collectors and the general public alike.
Frieze comprises three magazines—frieze, Frieze Masters Magazine and Frieze Week—and four international art fairs—Frieze London, Frieze Masters, Frieze New York and Frieze Los Angeles.
Additionally, Frieze organizes a program of special courses and lectures in London through Frieze Academy.
Frieze was founded in 1991 by Matthew Slotover and Amanda Sharp, with the launch of frieze magazine, the leading international magazine of contemporary art and culture. In 2003, Sharp and Slotover launched Frieze London art fair, which takes place each October in The Regent's Park, London.
In 2012, they launched Frieze New York, which occurs each May in Randall's Island Park, and Frieze Masters, which coincides with Frieze London in October and is dedicated to art from ancient to modern.
In 2019, Frieze launched Frieze Los Angeles, which took place February 14-17, 2019 at Paramount Pictures Studios, Los Angeles.