What a night, Preston!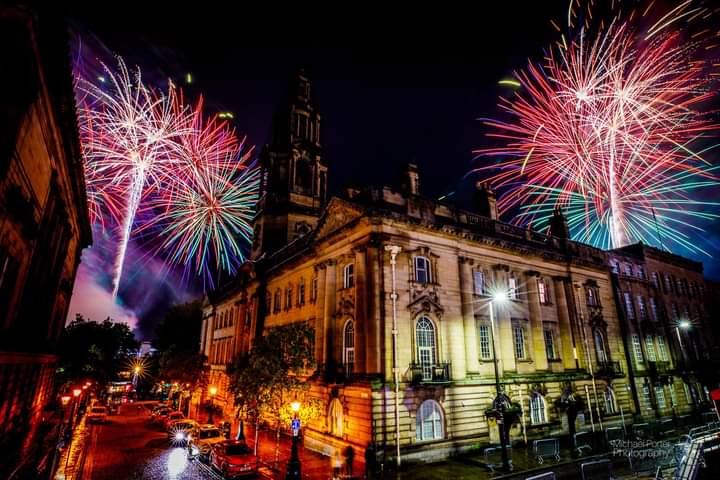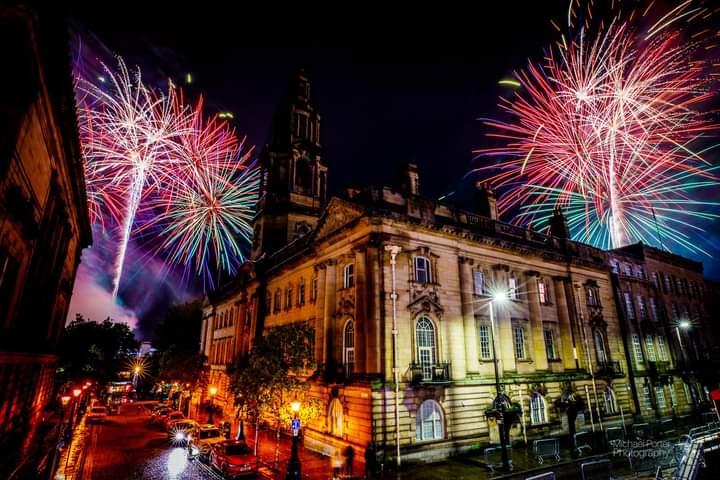 4 October 2021
Thousands joined Preston City Council in the city centre for a stunning grand finale to Lancashire Encounter.
Despite the heavy rainfall, spectators lined the streets of Preston to see the mesmerising Thank You torchlight parade hosted by the Mayor of Preston. The procession included commissioned acts such as the fire and smoke-breathing mobile hubcap dragon and otherworldly performers brandishing flaming torches and tridents, known as Dragon Beats and the illuminated mechanical puppet, Jabberwocky. However, what really brought it to life were the hundreds of Prestonians of all ages who came out to participate and represent key workers from across a wide range of organisations, businesses, and groups. The weather may have been dismal, but the atmosphere was vibrant.
A breath-taking fireworks display followed shortly after the end of the parade made its way to Preston Bus Station. Set off from 3 separate locations to ensure it was visible across the city centre, iconic Preston buildings were aglow with a spectacular backdrop. Commissioned as part of the city's Welcome Back Fund action plan, the fireworks have been funded by the European Regional Development Fund (ERDF) through the Department for Communities and Local Government.
In a video displayed on a large screen in front of Preston Bust Station, following the end of the procession, Mayor of Preston, Councillor Javed Iqbal, said:
"As we conclude what has been yet another wonderful Lancashire Encounter festival, which has brought three fantastic weekends of arts, culture, and entertainment to the city centre. I would like to thank all the acts, participants, volunteers and staff who have worked so hard to make it all possible.
Hosting this parade allows me the opportunity to celebrate and thank the many key workers who have supported the city and our communities through the pandemic. I am immensely proud of how the people of Preston have dealt with the challenges we have faced and would like to give a heartfelt tribute, as well as a massive thank you to all key workers, charities, businesses and communities groups in Preston for the sacrifice and support that they have selflessly given to the community throughout this difficult period. I am forever grateful for what you have achieved and your ongoing contribution to our community. This event is dedicated to you all".